A Rich History
The Story of The Barn at Twin Valley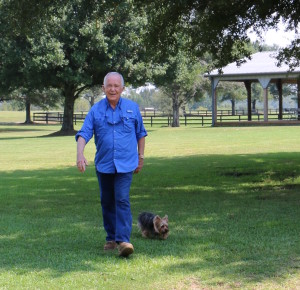 Once known as one of the top Black Angus breeders in the Southeast, an Alabama farm is seeing new life as a beautiful wedding and event venue. The Barn at Twin Valley is located on a gorgeous 1,800 acre farm in Prattville, Alabama.
Rustic elegance abounds in the barn complete with chandeliers, beautifully draped tables, and flickering candles. The current space is just a hint of the rich history of its recent past.
The farm was purchased in 1971 by Dr. Ron Henderson, an OB/Gyn specialist from Birmingham and founder of Henderson & Walton Womens Center, one of the premiere medical practices in the state. He also served on the governing board of and helped reorganize the Alabama Department of Health.
But Dr. Henderson's roots were humble, he grew up on a farm and recently released a book, "Son of a Tenant Farmer". The wide open spaces beckoned in his adult years, and he quickly dove into raising cattle as a hobby. But his experiences as a top OB/GYN led to his interest in the science of breeding and genetics. Soon, through embryo transfer, Dr. Henderson had 1,700 full blooded black angus on his farm, almost unheard of at the time. Twin Valley Farm was recognized throughout the Southeast and beyond as one of the top black angus farms.
Gone now are the days of live auctions and cattle sales, The Barn at Twin Valley is gaining new life as a premiere wedding and event venue. Dr. Henderson tries to contain his emotion as he describes what it's like to see couples begin their lives together on a property that has long been so special to him. "It makes my heart sing," he says. Still a family affair, Dr. Henderson credits his daughter- in- law Lyn with much of the success of reinventing the barn. Lyn Henderson completely oversaw the redesign of the barn, adding the elegant touch that exists today. Now she works closely with each bride to help her achieve the wedding of her dreams.
The Barn at Twin Valley offers multiples sites from which to choose for your special occasion. In addition to the enclosed barn there are two covered pavilions overlooking rolling hills and large oak trees. For more of an open air feel plan your wedding or event outdoors in the pasture. Wherever you choose, you and your guests will be enamored with the tranquil surroundings and panoramic views of The Barn at Twin Valley.
The Barn at Twin Valley is the perfect place to celebrate your special occasion. Whether it's a wedding, reunion, large event or family gathering the beauty of Twin Valley awaits.
What our customers are saying about us
How many events do you host a day?  
At the Barn of Twin Valley, we want you to be able to enjoy your special day as much as possible. We only book one event for each day.  
Is there a day-of coordinator?  
There will always be a staff person on site during your event.  This person is available to help with any venue related issues that may arise.  We can also help see to that all of your last minute details are exactly as you want them.  Lighting of candles, wedding director, timing of music, etc.  There is a nominal fee for these services.
Is there a space for me to get ready?
We have a beautiful bridal suite for you to get ready for your day.  We also have a separate grooms dressing area as well.
Will we need to bring in sound equipment?
We have audio and visual capabilities available on-site.  However, if you have booked a DJ or band, most prefer to bring their own equipment.
Where will our guests park? 
Our parking area is below the front entrance of the barn.  It is natural area with no pavement.  It is an open area with extra lighting for night events.
Are the facility and bathrooms handicapped accessible? 
Yes, we have ramps, wider doors in restrooms with handrails in stalls.
Is there a time limit for my event? 
We close at 11pm.  Everyone must vacate the facility by that time.  There is a small fee if you need to extend these hours.
Is there a noise ordinance we should be aware of? 
We are not located within the city limits and therefore have no noise ordinance.
Can we choose the vendors, or do you work exclusively with a certain set? 
The Barn at Twin Valley has a list of preferred vendors who we have experience with,  but you are welcome to secure any outside vendors as you wish.
Are we allowed to bring in decorations?
You can bring in your own decorations.  There are some restrictions as to how to secure items.  You cannot nail or make holes in any wall.  All items that you use during your send off or for the flower girls to toss MUST be biodegradable.  No confetti, rice, artificial flower petals, etc.  We would be happy to go over these with you.
Is the rental fee cheaper if we don't book a Saturday night? 
There is a discounted rate for Sunday-Friday rentals.  
What services does the rental fee include?
 Your rental fee at The Barn at Twin Valley includes:
 100 chairs – white folding event chairs with padded seats

Twelve 60″ round tables- seat 8 per table

Four 8′ banquet tables

Four 6′ banquet tables

Audio/ visual equipment

Set up of tables and chairs included

A staff member present to assist during event
What is your alcohol policy?
Alcoholic beverages may be served during your events. Event organizers are required to ensure that guests are not over served, that only those of legal drinking age are served alcohol, that inebriated guests do not drive home and that any irresponsible behavior is prevented. The Barn at Twin Valley will not be held liable for misuse of alcohol. A security guard (one guard per every 100 guests) is required by law to be on the premises during your event. The Barn will secure this with the sheriff's office two weeks prior to your event. The charge for the guards will be in addition to the regular rental fee.
What is your payment and cancellation policy?
Full payment is due two weeks in advance of your event. In the event that you must cancel, your deposit will not be refunded.  However, your deposit is transferable to another date.